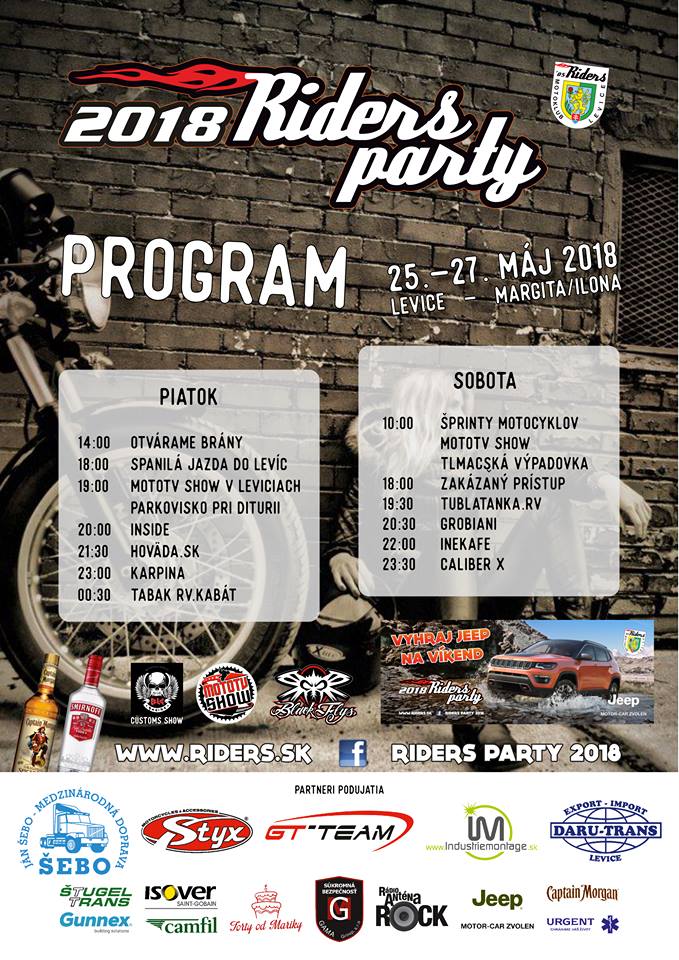 Už tento piatok sa uskutoční 11.ročník zrazu všetkých fanúšikov a milovníkov motoriek a to RIDERS Party 2018.
Super atmosféra, koncerty, exibície, šprinty, spanilá jazda, program, súťaže, občerstvenie, kemp, to všetko a ešte viac vás čaká aj tento rok v areáli kúpaliska Margita Ilona pri Leviciach. Prídte sa snami zabaviť a zažiť skvelý víkend. Okrem kvalitných slnečných okuliarov u nás nájdete Play Station zónu, Indoboard a Fingerboard … Tešíme sa na vás.
!! ALL AGE EVENT !!
Kedy: od 25.5.2018 do 27.05.2018
Kde: Kúpalisko Margita Ilona / rekreačný areál pri Leviciah / Slovensko
Program:
Piatok 25.5.2018
14:00 Otvorenie brány
18:00 Spanilá jazda do Levíc
19:00 MOTOTV show v Leviciach – Parkovisko pri Diturii
20:00 Inside
21:30 Hovädá.sk
23:00 Karpina
20:30 Tabák RV. Kabát
Sobota 26.05.2018
10:00 Šprinty motociklov a MOTOTV show – Tlmačská výpadovka
18:00 Zakázaný prístup
19:30 Tublatanka RV
20:30 Grobiáni
22:00 Iné kafe
23:30 Caliber X
Vidíme sa v stánku BLACK FLYS !!!
FLY 4 MOTO
Udalosť na FB: www.facebook.com/events/910705889085641/