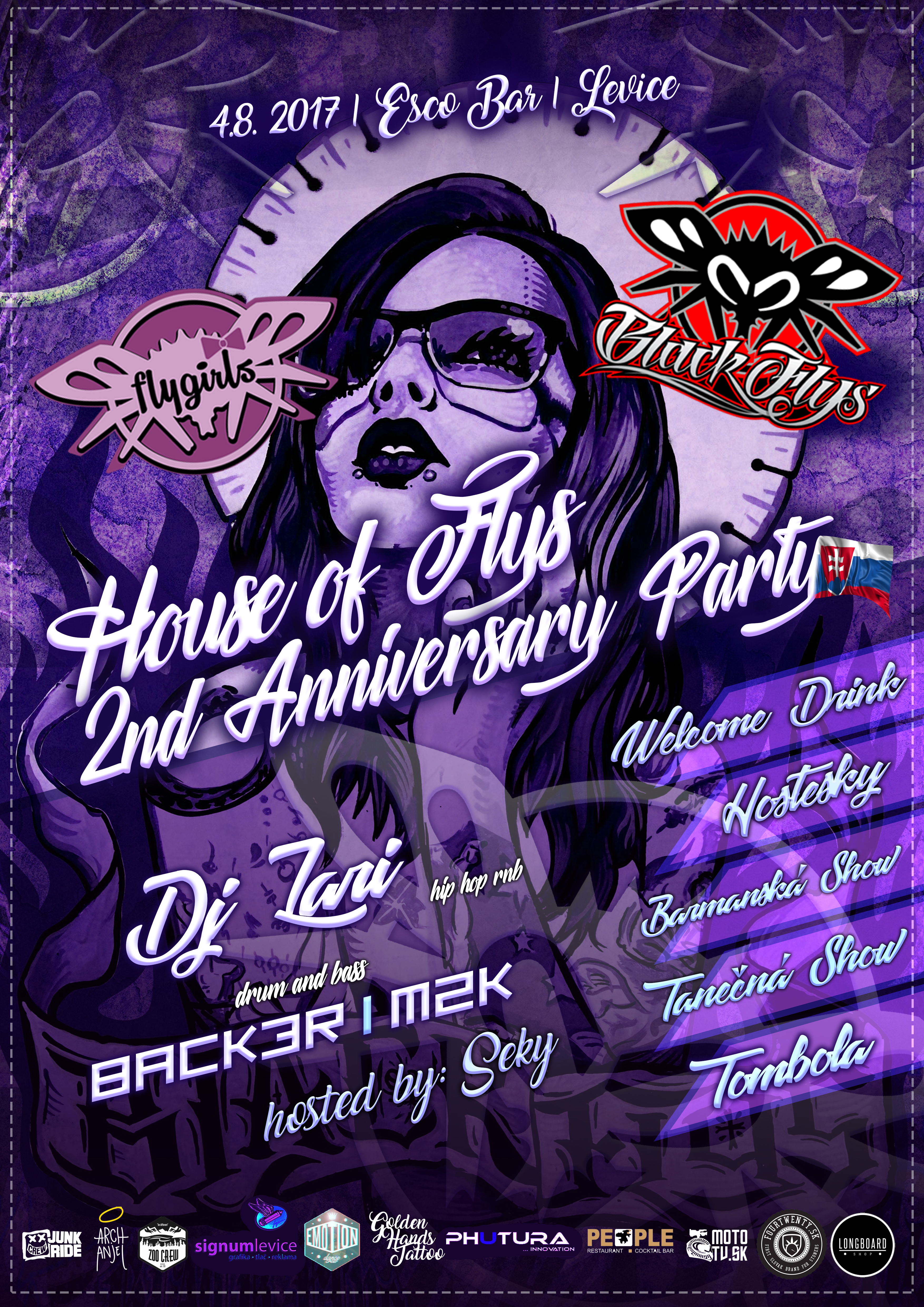 A je to tu zas !!!
The House of Flys Slovakia – oficiálny sklad k internetovému obchodu značky Black Flys oslavuje svoje už 2. narodeniny.
Pri tejto príležitosti vás 4.8.2017 všetkých pozývame do ESCO BAR-u /bývalé BRAVO/ v Leviciach Takže určite v piatok neseď doma a príď to snami osláviť  a dobre sa zabaviť. Okrem kvalitnej hudby od DJ Lari-ho na vás čaká aj každoročná tombola. Tešiť sa môžete na rôzne ceny od našich partnerov, ale hlavne na víkendový pobyt v Banskej Štiavnici u Archanjelov. Kde sa dá naozaj dobre zrelaxovať.
Ešte pred párty sa však uskutoční malý raut a to od 17:00 do 20:00 priamo v skladových priestoroch The House of flys Slovakia na ulici Mlynská 1/A v Leviciach, /vchod do Bowlingu/, Opäť si budete môcť zakúpiť horúce novinky, ktoré značka tento rok priniesla alebo využiť každoročný výpredaj a ušetriť aj 40% ..
Večer sa pomaly presunieme do ESCO BAR-u , kde na nás bude čakať welcome drink..
Aj tento rok, prijal pozvanie hosťovať akciu náš dlhoročný kamarát Michal Sekereš alias Seky, ktorý sa určite postará o skvelú zábavu.
Na šejkoch nebude chýbať Adrian Konc, ktorý okolo 22:30 ukáže niečo zo svojho umenia.. Takže to tam bude trochu horieť a lietať.
O tanečnú show sa postará skupina Emotion Dance crew, ktorú vedie Lucia Szabóová.. Tombolu si rozdáme po polnoci, no a potom príde na rad DJ Backer a dvojica M2K , ktorí to odpália okolo jednej po polnoci…
Je sa na čo tešiť, takže vidíme sa tam priatelia.
Kedy: 4.8.2016
Kde: ESCO BAR / bývalé BRAVO / Sv. Michala 28 / Levice / Slovensko
Štart:    17:00 – The House of Flys Slovakia
21:00 – ESCO BAR
Vstup: Free
A čo večer?
– Welcome drink
– Hostesky / FlyGirls
– Barmanská show / Adrian Konc
– Tanečná show / Emotion Dance Crew
– Tombola /víkendový pobyt v Banskej Štiavnici a iné/
– DJS /Lari, M2K, BACKER/
– Špeciálny hosť: SEKY
Partneri Akcie:
ESCO BAR
www.facebook.com/escobarlevice/
Golden Hands Tattoo
www.facebook.com/Golden-Hands-tattoo-237925832945077/?fref=ts
Emotion Dance Crew centrum tanca a pohybu
www.facebook.com/EMotion.dance.crewLV/?fref=ts
FourTwenty oblečenie papieriky
www.facebook.com/fourtwenty420brand/
Phutura športovo elegantná predajňa
www.facebook.com/Phutura-287650541276878/?fref=ts
Reštaurácia People Cocktail bar Handlová
www.facebook.com/peoplehandlova
Archanjel Caffe bar Banská Štiavnica
www.archanjel.com
Reklamná agentúra Signum
www.signum-levice.sk
ZooCrew občianske združenie adrenalínových športov v Leviciach
www.facebook.com/ZOOCREWsk
JunkRide freestyle BMX a MTB crew
www.junkride.sk
MotoTV crew točiaca sa okolo stuntridingu na motorkách
www.mototv.sk
Longboard shop predaj longboardov na Slovensku
www.longboardshop.sk
**More than 25 years FLYIN ** since 1991
www.BLACKFLYS.sk
———————————————————————————————————-
And it's here again !!!
The House of Flys Slovakia – The official store/internet shop for the brand Black Flys  is celebrating 2nd birthday.
On this occasion, all of you are invited to ESCOBAR / former BRAVO /, 4.8.2017 so be sure and dont stay at home on Fridays and come to the party to celebrate and have fun. In addition to quality music from DJ Lari, there is an annual raffle too. You can enjoy different prices from our partners, but especially for a one week stay in Banská Štiavnica in Archanjel. Where you are really relax.
Even before the party, however, a small banquet will take place from 17:00 to 20:00 directly in the warehouses of The House of Flys Slovakia on Mlynská Street 1 / A in Levice, / entrance to Bowling /, again you will be able to buy some now hot shades, which brand this year brought to you or take advantage of the annual sale and also save 40%.
In the evening, we will slowly move to the ESCO BAR where a welcome drink will be waiting for us.
Even this year, our long-time friend Michal Sekereš alias Seky has welcomed the invitation, which will definitely take care of the great entertainment.
The sheiks will not miss Adrian Konc, who will show something out of his art at around 22:30 .. So there's going to be a bit of a bang and fly there.
The dance show will be taken care of by Emotion Dance crew, which is lead by Lucia Szabó. We will give raffle after midnight, and then DJ Backer and M2K will make it up around one hour after midnight …
Will be fun, so see you there guys !!
When: 4.8.2016
It's fun, so we see friends there.
Where: ESCO BAR / former BRAVO / Sv. Michala 28 / Levice / Slovakia
Start: 17:00 – The House of Flys Slovakia
21:00 – ESCO BAR
Input: Free
And what about the evening?
– Welcome drink
– Hostess / FlyGirls
– Barman Show / Adrian Konc
– Dance Show / Emotion Dance Crew
– Tombola / weekend stay in Banská Štiavnica and others /
– DJS / Lari, M2K, BACKER /
– Special guest: SEKY
Partners Shares:
ESCO BAR
www.facebook.com/escobarlevice/
Golden Hands Tattoo
www.facebook.com/Golden-Hands-tattoo-237925832945077/?fref=ts
Emotion Dance Crew center of dance and movement
www.facebook.com/EMotion.dance.crewLV/?fref=ts
FourTwenty paper clothes
www.facebook.com/fourtwenty420brand/
Phutura sporty elegant shop
www.facebook.com/Phutura-287650541276878/?fref=ts
Restaurant People Cocktail Bar Handlová
www.facebook.com/peoplehandlova
Archanjel Caffe bar Banská Štiavnica
www.archanjel.com
Signum Advertising Agency
www.signum-levice.sk
ZooCrew civic association of adrenaline sports in Levice
www.facebook.com/ZOOCREWsk
JunkRide freestyle BMX a MTB crew
www.junkride.sk
MotoTV crew spinning around stuntriding on motorcycles
www.mototv.sk
Longboard shop selling longboards in Slovakia
www.longboardshop.sk
** More than 25 years FLYIN ** since 1991
www.BLACKFLYS.sk